Growing up in Germany and studying German literature at secondary school, I became very familiar with Brecht, 'epic theatre' and his distinctive writing style. I studied The Good Person of Szechuan in class and have seen multiple productions of the Threepenny Opera. However, I was as yet unfamiliar with Life of Galileo, Brecht's great history play, if you could call it that.
This production certainly ticks the Brechtian box of making theatre a forum for political debate – its themes are relevant to pretty much any age. These days, it is almost blatantly pertinent to such conflicts as science vs climate change deniers, science vs creationists, science vs those 'tired of experts'..science vs any non-progressive views. Galileo's struggles against the ideological constraints of the Catholic church are at the heart of this play. It's easy to see why Brecht chose this subject matter to represent the struggle of progress against backwards institutions and societal norms.
photo credit: Johan Persson
Brendan Cowell, who was previously seen in the Young Vic's Yerma, plays Galileo as a powerhouse of loud, seemingly inexhaustible energy. Casually dressed in a graphic tshirt, jeans and trainers, his stocky frame bounces around the stage, commanding it yet enticing the audience to join in. He does reign it in during the more somber bits, which I won't spoil, but keeps a great rapport with the audience throughout. On the date I saw the play, this involved giving a group of schoolchildren in the front row a line to say, as well as improvising funny little asides, rather like an MC of his own story. True, his monologues would be long-winded in some actors' mouths, but he does his best to keep them fresh and exciting.
Though this Galileo's exuberance is at first very unexpected in a character one might assume to be a venerable, scholarly type, it is in line with Brecht's desire to disconcert his audiences. However, it probably stems from Joe Wright's obvious joy at directing this production. Primarily a film director, Wright is known for such successes as Atonement. He hasn't directed many stage plays, and it's clear he decided to use this opportunity to try everything out. From puppets to masks to projecting the universe onto the ceiling, this production goes all out in the most obviously theatrical ways – no special effects here. Lizzie Clachan's wonderful design generally makes great use of the space – the in-the-round staging serves this production well. The Brechtian scene introductions, narrated by an expertly handled puppet, have a lovely childlike quality. The use of an apple throughout the show (an obvious nod to Newton, a scientific genius yet to come) is indicative of the show's simple yet effective symbolism.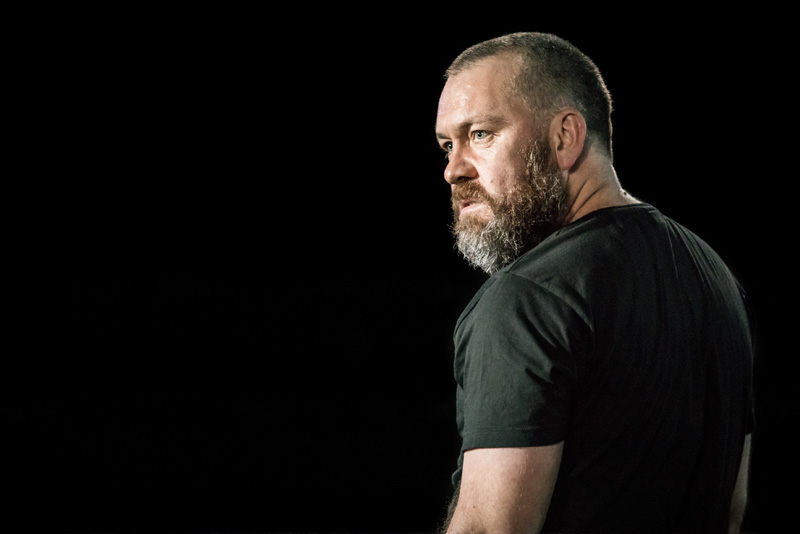 The cast are all strong, no matter the size of their role. To name a few – Anjana Vasan is convincingly youthful and wonderfully poised as Galileo's young daughter Virginia, while Joshua James is delightfully smarmy as her rather thick suitor Ludovico. On the whole, it looks like the cast are having a lot of fun, and they are very good at absorbing the audience into the spectacle of it all.
This show has much of the storytelling quality that made me love the National's Peter Pan (though that was even more enjoyable as a theatrical experience!). Overtly Brechtian, the actors in Galileo are clearly trying first and foremost to tell a tale, not inhabit characters. Watching Life of Galileo is like watching an educational and very captivating puppet show in which the puppets are bursting with life, and I mean that in the best way.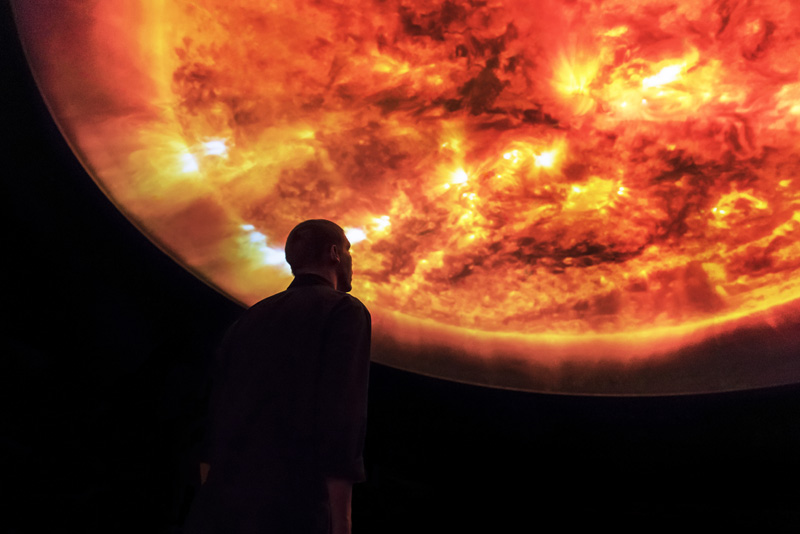 Life of Galileo is playing the Young Vic until 1 July 2017. For more information and tickets, click here.